How are your summer Sunday School plans coming along?
If you're anything like me, it's possible that you may not be quite as prepared as you'd like to be. Between Easter events, Confirmations, graduation, and summer vacation planning, it can be easy for Sunday School plans to be put on the back burner.
Sources of Stress with Summer Sunday School
To be honest, the real reason I procrastinate on these plans comes down to one thing: stress.
It might just be me, but I often find that summer Sunday School planning can be more stressful than planning for the regular school year.
Do any of the following scenarios sound familiar to you?
I'm not sure how many students will show up from week to week. Sometimes I have five kids and sometimes I have fifteen. Will I have enough supplies or too many supplies? What am I supposed to do if no one shows up?
I'm not sure what ages will show up. One week we'll have a whole bunch of early childhood students, but the next it will be all middle schoolers. How am I supposed to make sure the activities are engaging for everyone?
I want to give my regular volunteers a break, but I don't know who can fill in. What am I supposed to do when all my volunteers take a vacation during the same week? What happens when I'm on vacation?
Ugh.
All these questions can sometimes cause me to forget the most important question:
How can I best share the love of Jesus with my Sunday School students this summer?
Thankfully, over the last couple of summers, my church has been working through a few ways to make summer Sunday School planning a little less stressful. I hope these tips give you some ideas on how to make your summer Sunday School program more engaging for students and volunteers alike.
Combine Classes
The biggest help I've found when planning for summer Sunday School is to go to a mixed-age or one-room format. For my church, this means everyone from pre-K to eighth grade is in the same room. For your church, maybe that just means combining a few grades or classes that may not normally learn together. Whatever the case, moving to this format often helps relieve some of the stress on volunteers and helps avoid some of the stress associated with fluctuating attendance.
At first, yes, it might be a little awkward for an eighth grader to be working on the same activities as a kindergartener. But, by the end of the summer, I consistently hear from my students that they love being all together and wish we could have class this way year round! This mixed-age format gives the older students some great opportunities to shine as leaders and mentors. It also gives the little ones someone to look up to and emulate. As teachers, my co-leaders and I also find this format very rewarding because it allows us the opportunity to get to know students who aren't normally in our class.
Switch Up Your Summer Schedule
After a few years of experimentation at my own church, we've found that the following schedule works very well for summer Sunday School, particularly if you have mixed-age groups or combined classes.
Opening Activities: 15–20 minutes
When the students walk in for class, we usually have three to five activities set out for them to choose from. We try to pick a craft or two, a coloring page for the younger ones, and an activity page for the older ones. We've also found that this one-room style curriculum works very well. (Yes, I know I'm a little biased, but hear me out!)
Programs like God's Living Water: Covered in Jesus' Grace, The Tree of Life: God's Promise of Salvation, and Enduring Faith® Religion Curriculum all have options that include these extenders and coloring pages so that everything is in one place. The best part is that these include downloadable components so if a few extra students show up, you can just run and make more copies.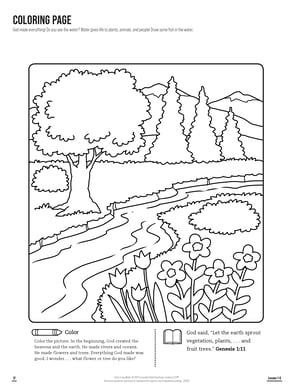 For the crafts, I try to make sure that each activity has easier and more intricate versions so that kids can choose to spend as much or as little time on it as they want. Oftentimes I select a mix of quick and easy craft sets from the store and found craft ideas using supplies we have on hand.
I also look at the lesson extenders page and pick out two or three that might work for my group. The beauty of something like this is that even though I might not like all of the activities, chances are there are two or three that will work for my church's setting.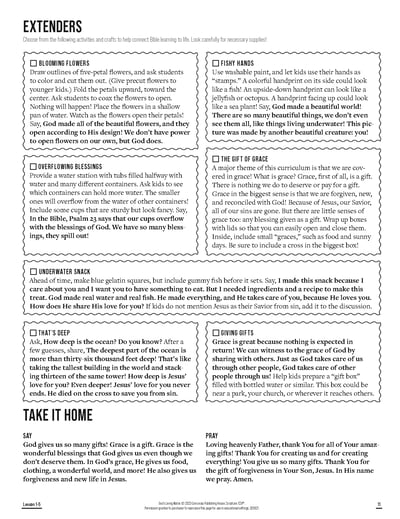 Bible Lesson: 15–20 minutes
Once everyone has gone through the crafts and you can sense they're getting a little antsy, I usually call the kids to start cleaning up and move on to our Bible story time. Depending on what age of kids we have each week, we usually have a couple of options: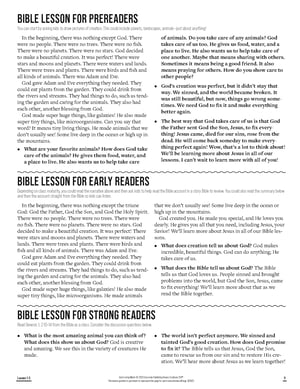 Use the storytelling page that comes with your curriculum and pick the option that you think will work best for your class.
Find a Bible Storybook or Arch Book to help you tell the story.
In both these cases, if you have older students who like to read aloud or act things out, this is a great time for them to shine!
After you've gone through the story, be sure to recap with some questions and checks for understanding. Make sure to provide a mix of simple and more complex questions so that all ages stay engaged.
This is also a great opportunity to have students show off their creations from earlier. Talk about how their crafts connected to the Bible narrative of the day. Many students love to show off their creations. Oftentimes as we talk about these crafts together with the story, I get new insights into where these learners are and what they have to share about God's love.
Snack: 15–20 minutes
Finally, it's the moment we've all been waiting for: snacks. Who doesn't love a great snack? My church has found that leaving snack for last gives a little bit of cushion if the opening activities or Bible lesson do not go as planned. For example, if everyone was really into the craft for the week, I could cut the snack short without sacrificing Bible time. Or if one of my crafts is a flop, then maybe we might hang out a bit longer over snack.
As far as snack selection goes, sometimes we have simple snacks, and other weeks we follow the snack ideas from the guide. Choose what works best for your setting and students.
Flextime: Games, Music, or Skits
Finally, I almost always have an activity or two in my back pocket, just in case things don't turn out as I originally planned. I'll often look through the additional materials in my curriculum to see what might be easy to adapt on the fly. I'll try to pick something that doesn't require any extra prep on my part but would be highly engaging for the kids. Oftentimes, this might be one of the game suggestions or skits. This might also be a great time to sing through a few VBS songs or church favorites. Whatever the case, I've found it alleviates a lot of my stress just to have a few of these options at the ready.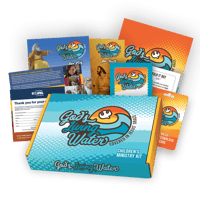 Order the God's Living Water Children's Ministry Kit today to get started with your summer Sunday School planning!