Once, my pastor asked me if I liked his reference to Shakespeare in his sermon. I should have been able to laugh with him and comment that I appreciated the way it connected to the Gospel reading. Instead, I awkwardly knit my eyebrows and tried to remember what he was talking about. After thinking about it, I realized that I couldn't remember anything that he'd said in the sermon at all. I went to brunch that day feeling guilty but also confused about what went wrong in my ability to listen to the Good News that day. If you find yourself struggling with Sunday morning brain fog or a wandering mind, keep reading to learn tactics that help you focus on Christ in a distracting culture.
1. Rededicate Your Technology Time
Images saturate our daily lives in this heavily technological era. Most advertisements, influencers, and informational content that we're presented with are accompanied by an image. The human brain values the visual, and it even releases reward chemicals when we're viewing brightly colored and lit images. This environment means that we're training ourselves to seek images and the rapid gratification that comes along with viewing them in quick succession. In a time where short-form video rules the internet, focusing voluntarily on a fifteen- or twenty-minute sermon seems to be a lost art for some. Although the culture is distracting, finding focus is not a hopeless pursuit. Become more aware of what drives you online and then dedicate your scrolling time to God. Even the simple change of being more aware can make a big difference in how you focus your attention.
See more on how you can rededicate your technology time to better align with your Christian life in Redeeming Technology: A Christian Approach to Healthy Digital Habits
2. Refocus Your Worrying Mind
Although social media and our visual culture play a large role in the persistence of distraction, the inability to focus can also be rooted in an inability to calm one's mind. First Peter 5:6–7 instructs us how to handle our worrying minds:
Humble yourselves, therefore, under the mighty hand of God so that at the proper time He may exalt you, casting all your anxieties on Him, because He cares for you.
That verse literally tells us to throw our anxieties to God. Another verse that is often quoted is Philippians 4:6–7, and it is worth examining closely:
Do not be anxious about anything, but in everything by prayer and supplication with thanksgiving let your requests be made known to God. And the peace of God, which surpasses all understanding, will guard your hearts and your minds in Christ Jesus.
Not only can we give our worries to God through prayer but we can also focus on thanksgiving, which keeps us centered on blessings rather than fears. The Bible repeats many times that we should not be anxious, but we overthinkers might still find ourselves replaying that conversation where we might have said the wrong thing, planning that vacation that's still six months away, and remembering the spinach molding in the fridge. God cares for even our smallest concerns, and we can bring these to Him in prayer when our minds start to wander.
3. Re-prioritize Worship Time
If you can identify with my sermon-distraction story, it might be time to start treating church service, Bible class, and personal Scripture time like a special event. Just like athletes stretch before a competition or a host might take the time to set the table before hosting a nice dinner, you can build habits that foster focus. Take a few intentional minutes to clear your mind beforehand, take notes during the sermon, and make an agreement with a friend that you'll share your crucial takeaways after the service or study. Commit to these habits and pray that the Holy Spirit will work through you and through God's Word as you focus on it. Even in our moments of weakness, Scripture is still living and active, taking effect despite our failings.
Overcoming Distraction through Christ
Although it may not be easy to stay focused at first, we know that God has designed our minds to learn, grow, and adapt, so we can develop these habits. This is something that we can keep in mind as individuals trying to develop our ability to focus, but we can also use this information to show our pastors, teachers, and leaders why we're getting lost in mental la-la land and ask them to help guide us in prayer and foster focus. We live in a deeply visual culture, and employing the tools listed above can help us find focus and clear our minds so that we can more deeply discover how God blesses us each week through His Word and His servants. We can live in the clarity, joy, and focus that God desires for us in our Christ-centered and Christ-saved lives.
Scripture: ESV®.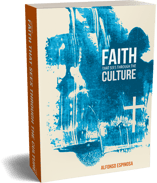 Learn how to restructure your life to balance the culture and the faith together in Faith That Sees Through the Culture.