As another school year comes to a close, many Lutheran schools are already starting to order curriculum for next year. This year, we're excited to offer the all-new Enduring Faith Religion Curriculum. Use this post as a quick reference guide to work through some of the key features of the new curriculum.
While there is certainly a lot to talk about with a new curriculum, this post will focus mainly on the topics below. Feel free to read straight through or jump to the section that is most interesting to you.
Scope and Sequence
One of the biggest benefits of the new curriculum is the aligned Scope and Sequence. The curriculum contains seventy lessons arranged in eight units that cover the entire Bible. Every grade level works through the same section of the Bible for the same lesson. This enables schools to have schoolwide themes for weekly newsletters and chapels, monthly unit activities, and the like.
At the same time, each level focuses on a variety of subthemes for each lesson so that students can learn the rich breadth of Bible content. For instance, under the umbrella theme "God Gives Israel Judges," a variety of judges will be
studied among the various grade levels.
Lesson Structure
Each of the seventy lessons in the curriculum is divided into two sessions. The first session focuses on Bible learning while the second focuses on faith application. This flexible lesson structure will allow schools to adapt the lessons to fit their religion class periods, extending any one lesson from two to four days.
Teacher Guides
The Teacher Guide contains planning tips for both the unit and lesson level. Each section starts with a unit overview that gives teachers a broad scope of what lessons are included and the unit focus, along with some preassessment and unit project ideas.
The lesson materials begin with a brief biblical background for teaching, followed by a classroom devotion to use with the students. This is followed by a look inside each of the Student Book pages for the lesson. Session 1 has the Bible story portion of the lesson, and Session 2 has an activity page that applies what was learned in the lesson to everyday life. Each lesson also has lesson extenders that allow teachers to tailor learning for student abilities as well as the length of the class period. When used together, these components can be adapted to fit any school's schedule, filling up to four days with activities.
Student Books
The Student Book for every grade level includes one page per session for a total of two pages per lesson. The first page focuses on Bible learning through age-appropriate content while the second page connects faith with everyday life. The back of the book includes printable Bible figures for younger students or a glossary for older students. For the younger grades (Preschool–Grade 1), we recommend that you purchase the corresponding Sticker Book for each student to go along with the Student Book.
Digital Resources
Digital Tools for Students and Families
The student and family digital resources are all new for this curriculum and include activities to help reinforce learning at home. Each lesson includes three types of digital activities:
F

amily Devotion

includes a picture of the Bible narrative, a devotion for everyone in the family to read together, discussion questions, and a prayer.
Check for Understanding helps students to recap the key points in each lesson through interactive questions and activities.
Memory Words activities will help students learn important Bible verses by heart through fill-in-the-blank activities. Activities for younger students are a rebus style using pictures, while the older students have a traditional fill-in-the-blank with words.
The digital tools are free and open for anyone to use. Just visit learn.cph.org and select the grade, unit, and lesson to get started.
Digital Tools for Teachers
The digital teacher tools will help teachers and administrators with lesson prep and planning. As you're reviewing your Teacher Guide, be sure to look for suggestions on when and how to incorporate these items into the lesson.
Here is a complete list of what's included in the digital resources for teachers:
Welcome Page
Lutheran Religion Standards
Printable Scope and Sequence Document
Curriculum Overview
Memory Words by Lesson and Grade
Unit Themes
Unit Overview Videos
Faith Family Ideas
Into the World Summaries
Bible Figure Printables
Faith Words Glossary
Teacher Devotions
Lesson Summaries
Family Letters for Preschool
Suggestions for Reaching Every Student
Music Audio Files
The digital teacher tools are linked to the cph.org account your school used to purchase the materials. Here you'll find an option to share the tools with specific people so that each teacher at your school can have access. For a quick walk-through of what is included and how to access the materials, watch the video below.
Lutheran Religion Standards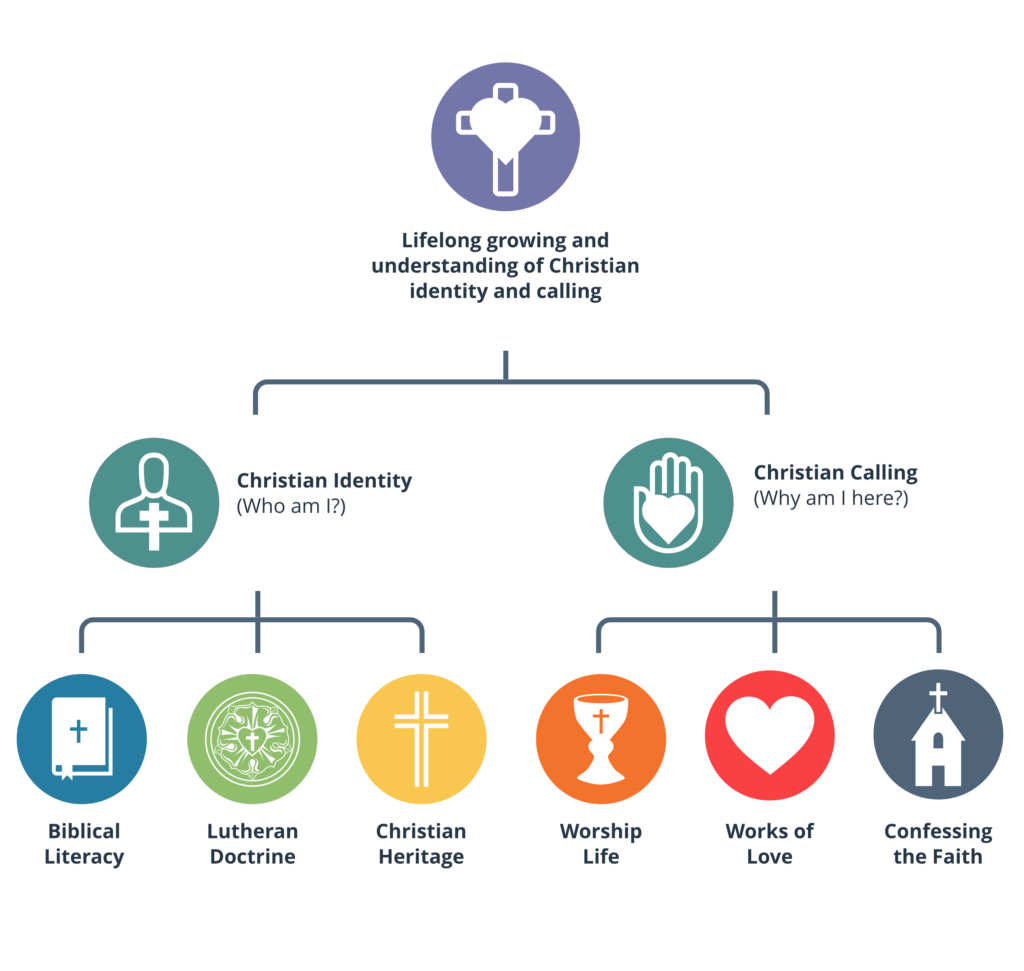 The Enduring Faith Religion Curriculum also connects with the brand-new Lutheran School Standards. These standards were developed in partnership with many educators across the LCMS to help align important teaching and practice throughout the Synod.
The goal of these religion standards is to nurture students in their lifelong understanding of their identity and calling in Christ. Nestled within these two areas are six domains to categorize lifelong learning:
Biblical Literacy
Lutheran Doctrine
Christian Heritage
Worship Life
Works of Love
Confessing the Faith
The standards can be accessed for free at lutheranschools.org. The site allows you to filter and search the database by factors such as domain or grade. You can also download a PDF of all the standards to print and have on hand. For even more on how the standards were developed and how they can impact the future of Lutheran education, watch the panel discussion below.
Supporting Resources
In addition to the core materials listed above, our curriculum team has put together a list of supporting resources that will help teachers and students supplement the curriculum. These materials are referenced in the Teacher Guides, but here is a brief overview.
Bibles
The Story Bible: A children's Bible, especially helpful for the large, full-color Bible story pictures.


Recommended for Preschool




The Hear Me Read Bible

: A collection of eighteen Bible stories using twenty-five words or less.

Level 2 has an additional eight stories.


Recommended for Kindergarten–Grade 1





The Growing in Faith Bible Storybook: A collection of 125 narratives with illustrations.
Recommended for Grades 1–2

The Growing in Faith Bible: The full ESV biblical text with artwork, 125 Bible narratives, and special features.
Recommended for Grades 3–5

The Lutheran Study Bible: ESV Bible with study notes that are distinctly Lutheran, maps, articles, and a concordance.
Recommended for Grades 6–8

Catechisms
Hymnals
We hope that this brief overview provided you with enough information to get started with Enduring Faith Religion Curriculum. For more information, watch our complete overview webinar and download curriculum samples at the site below.